Job hunting? Hoping to get promoted? Struggling to find the right balance between work and your personal life? There's a book for that. Here's what you should read at every point in your career.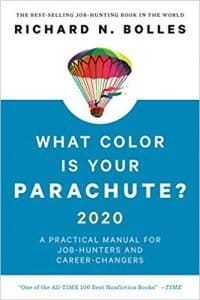 What Color Is Your Parachute? is the world's most popular job-hunting guide, featuring the latest resources, case studies, and perspectives on today's job market, revealing surprising advice on what works—and what doesn't—so you can focus your efforts on tactics that yield results.  At its core is Richard N. Bolles's famed Flower Exercise, a unique self-inventory that helps you design your career—and your life—around your key passions, transferable skills, traits, and more. This practical manual also provides essential tips for writing impressive resumes and cover letters, networking effectively, interviewing with confidence, and negotiating the best salary possible. Whether you're searching for your first job, were recently laid off, or are dreaming of a career change, What Color Is Your Parachute? will guide you toward a fulfilling and prosperous life's work.
2. When you just landed your first job: The Start-up of You by Reid Hoffman and Ben Casnocha
LinkedIn cofounder and chairman Reid Hoffman and author Ben Casnocha show how to accelerate your career in today's competitive world. The key is to manage your career as if it were a start-up business: a living, breathing, growing start-up of you. Why? Start-ups, and the entrepreneurs who run them, are nimble. They invest in themselves. They build their professional networks. They take intelligent risks. They make uncertainty and volatility work to their advantage. These are the very same skills professionals need to get ahead today.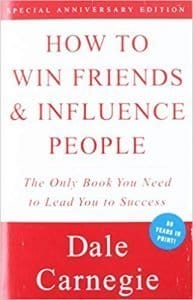 For more than sixty years the rock-solid, time-tested advice in this book has carried thousands of now famous people up the ladder of success in their business and personal lives. Now this previously revised and updated bestseller is available in trade paperback for the first time to help you achieve your maximum potential throughout the next century! Learn:
Three fundamental techniques in handling people
The six ways to make people like you
The twelve ways to win people to your way of thinking
The nine ways to change people without arousing resentment
One of the most inspiring and impactful books ever written, The 7 Habits of Highly Effective People has captivated readers for 25 years. It has transformed the lives of presidents and CEOs, educators and parents—in short, millions of people of all ages and occupations across the world. This twenty-fifth anniversary edition of Stephen Covey's cherished classic commemorates his timeless wisdom and encourages us to live a life of great and enduring purpose.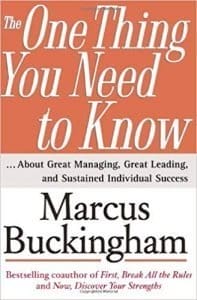 In The One Thing You Need to Know, Buckingham gives readers an invaluable course in outstanding achievement: a guide to capturing the essence of the three most fundamental areas of professional activity. Great managing, leading, and career success: Buckingham draws on a wealth of applicable examples to reveal that a controlling insight lies at the heart of the three. Readers will be eager to discover the surprisingly different answers to each of these rich and complex subjects. Each could be explained endlessly to detail their many facets, but Buckingham's great gift is his ability to cut through the mass of often-conflicting agendas and zero in on what matters most, without ever oversimplifying. As he observes, success comes to those who remain mindful of the core insight, understand all of its ramifications, and orient their decisions around it. In every way a ground-breaking book, The One Thing You Need to Know offers crucial performance and career lessons for businesspeople at all career stages.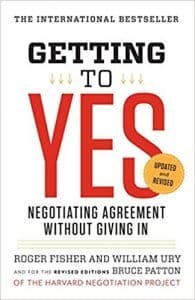 Since its original publication nearly thirty years ago, Getting to Yes has helped millions of people learn a better way to negotiate. One of the primary business texts of the modern era, it is based on the work of the Harvard Negotiation Project, a group that deals with all levels of negotiation and conflict resolution. Getting to Yes offers a proven, step-by-step strategy for coming to mutually acceptable agreements in every sort of conflict. Thoroughly updated and revised, it offers readers a straight- forward, universally applicable method for negotiating personal and professional disputes without getting angry-or getting taken.
7. When you need to make a career change: Designing Your Life by Bill Burnett and Dave Evans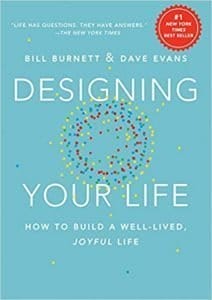 At last, a book that shows you how to build—design—a life you can thrive in, at any age or stage. Designers create worlds and solve problems using design thinking. Look around your office or home, at the tablet or smartphone you may be holding or the chair you are sitting in. Everything in our lives was designed by someone. And every design starts with a problem that a designer or team of designers seeks to solve. In this book, Bill Burnett and Dave Evans show us how design thinking can help us create a life that is both meaningful and fulfilling, regardless of who or where we are, what we do or have done for a living, or how young or old we are. The same design thinking responsible for amazing technology, products, and spaces can be used to design and build your career and your life, a life of fulfillment and joy, constantly creative and productive, one that always holds the possibility of surprise.
Has your "regular" workday started to last over nine hours? Have you been missing important family events to satisfy the boss? Are you regularly skipping healthy meals and trips to the gym just to squeeze more into your day? If so, you're not the only one. Countless individuals struggle with maintaining steady personal and work lives. In Lead with Balance, university professor, speaker, and executive consultant Donnie Hutchinson addresses this issue head-on and explains how leaders, employees, and students can properly manage all the important facets of life. A balanced life leads to increased well-being, happiness, satisfaction, and productivity―a win-win for everyone. Through proper time management and focus, anyone can find their life's balance. Don't lose sight of the most significant moments in life. We can all learn from the Millennials. It's time to take action and enjoy living!
9. When you need to get over a burnout: Non-Stop Inertia by Ivor Southwood
In our culture of short-term work, mobile communications and rolling media it seems we are always on the move; but are w really getting anywhere? Non-Stop Inertia argues that this appearance of restless activity conceals and indeed maintains a deep paralysis of thought and action, and that rather than being unquestionable or inevitable, the environment of personal flexibility and perpetual crisis which we now inhabit is ideologically constructed. Written from inside this system of precarious employment and debt-driven subjectivity, illustrating its arguments with actual examples and using theory to make connections and unlock meanings, the book shows how in our constant anxious pursuit of work and leisure we are running on the spot against a scrolling CGI backdrop. As performative labourers' full-time jobseekers, social networkers and consumer-citizens, we are so preoccupied by the business of 'being ourselves' that our real identities are forgotten, and our dreams of resistance buried.
10. When you're aspiring to make CFO: What Got You Here Won't Get You There by Marshall Goldsmith and Mark Reiter
Whether you are near the top of the ladder or still have ways to climb, this book serves as an essential guide to help you eliminate your dysfunctions and move to where you want to go. Marshall Goldsmith is an expert at helping global leaders overcome their sometimes unconscious annoying habits and attain a higher level of success. His one-on-one coaching comes with a six-figure price tag. But, in this book, you get Marshall's great advice without the hefty fee!
You might also like:
10 MUST-READ CAREER AND LEADERSHIP BOOKS