Refreshing your resume is all about uncovering the ever-evolving you – your skills, talents, and passions – and packaging these qualities in a way that best markets you to potential employers. After all, the purpose of a resume is to highlight your best and your most relevant skills that relate to the position that you're applying to.
Who are you?
The perfect way to begin is to ask, "who am I anyways?" because it will encourage you to self-reflect. Successful marketing often requires strong product knowledge, and when it comes to job searching, you are the product.
Think about where you're at in your journey right now. What memories from your recent workplace experiences resonate positively with you? What aspects of your work do you really enjoy? What type of duties and projects do you gravitate towards? What have you learned from your recent work? The answers to these types of questions will not only help you zero in on what to highlight, but will also provide you with clues as to where your path is headed.
What are your accomplishments?
Part and parcel to the self-reflection process is uncovering some of your accomplishments. In our humbleness, we often erroneously believe we have no significant accomplishments to speak of. However, asking ourselves the right questions can reveal accomplishments that we didn't realize we had achieved. Here are a few of those questions:
Did you save the company money?
Did you deliver more than was expected of you?
Did you train or supervise anyone or help someone reach their goals?
Were you ever recognized by management for a job well done?
Did you receive a reward? Were you promoted?
Did you make a job easier or more efficient?
Did you see a need and address it?
Did you take on a special project?
Did you find or foresee a new opportunity?
Did you solve a challenging problem or overcome a difficult obstacle?
You see? Bet you've had a few accomplishments come to mind now!
Using CAR to describe your accomplishments
In order to present your accomplishments in concise statements on your resume, the "CAR" formula is recommended:
C – Challenge (What was the challenge or problem at hand?)
A – Action (What actions did you take to solve or address the challenge?)
R – Result (What was the result of the actions you took?)
When you make your resume as accomplishment-based as possible, not only are you painting a more descriptive picture of your skills, but you're showing the positive impact you've made in your roles, which prospective employers love to see.
Resume formats
There are essentially two resume types to choose from – chronological and functional. Each lends itself best to different types of career paths. For a career path that has been more linear in direction – one that has progressed consistently in one field and has been relatively unbroken – the chorological style is recommended. Start from the most recent position and list experience backwards in time, going back no further than 10 years.
Here's an excerpt of the professional experience section of a chronological resume. The full version of this chronological resume is also available:


For a career path that has been more varied in nature – perhaps where positions have been held in different fields, there have been "gigs" outside of the applicant's primary path, or breaks over time – the functional format is recommended. In this style, the skills gained are the focal point and are grouped into skill clusters, such as technical, software, leadership and management, interpersonal, critical thinking and problem solving, decision making, and language skills.
Here's an excerpt of the experience highlights section of a functional resume. The full version of this functional resume is also available: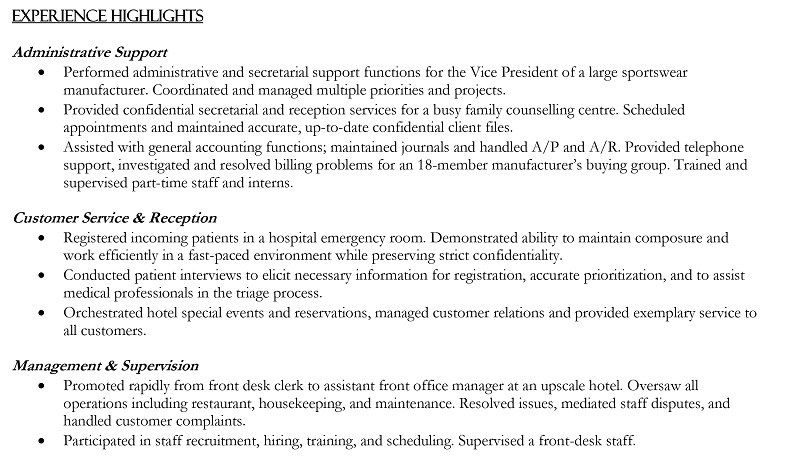 Finessing your resume
Now it's time to make your resume beautiful. Creating a high-quality product is important because it demonstrates your professionalism to prospective employers. As you piece together your resume content, use consistent fonts, accenting (such bold and italics), and margins. Write in point form rather than sentences. Overall, you want to make sure your resume is inviting, easy to read, and answers "yes" to the following question – would you hire you?
What are video resumes?
As COVID-19 pushes workplaces into a new era, we may see an increased use of video resumes. Does this mean that everything discussed above regarding paper-based resumes is obsolete? Not at all. Employers still wish to see a paper-based resume, but the video resume can be considered an accompaniment.
What is a video resume? Essentially, it's a one-minute pitch about you (almost like an infomercial!). It speaks to who you are, your values, your workplace performance, and why you are the best candidate for the position. Here are a few tips to keep in mind when you shoot it:
Most smartphones are sufficient for filming.
Establish a good camera angle, and don't hold your phone.
Project with warmth, confidence, and professionalism (pretend the camera is a person!).
Write a script so you're not struggling for words.
Practice, practice, practice so your delivery doesn't sound scripted, but natural and genuine.
Use a neutral and profession background.
Have a friend or business colleague review your video and provide feedback.
Originally posted on CPABC's Newsroom.
You might also like:
RESUME TEMPLATE FOR ACCOUNTING & FINANCE PROFESSIONALS